Ubuntu 17.04 available at Clouding.io
It is already available at Clouding.io the Ubuntu 17.04 image, baptized as "Zetsy Zapus", following alphabetically the last version "Yakkety Yak". So you can already create VPS Servers with Ubuntu 17.04 as with your operating systems.
Now we are going to check out some of the novelties that Ubuntu 17.04 "Zetsy Zapus". Remember that Ubuntu 17.04 is not a TLS release and therefore Ubuntu support will only be 9-month long.
The novelties that Ubuntu 17.04 brings up
Bye-bye to Unity
Although Unity 7 will still be the default environment, you will be able to select Unity 7 or Unity 8 on the screen to log in: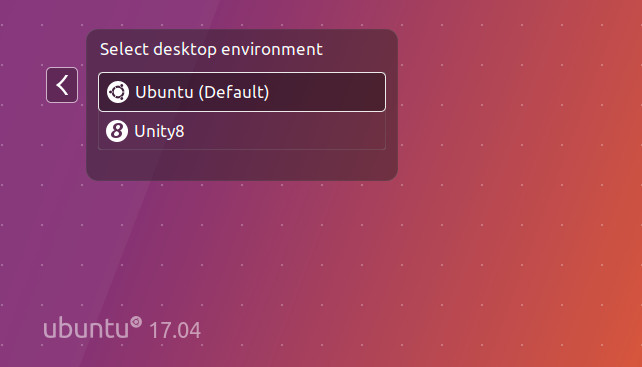 In case you don´t know this, we inform you that Unity 8 is the new desktop version of Unity for Ubuntu and will come along with the Mir display server.
Unity 8 will not be the default desktop version for Ubuntu 17.04, Ubuntu 17.10 and Ubuntu 18.04. Ubuntu Unity disappears and GNOME will be the default desktop environment starting on Ubuntu 18.04.
Swap files
Do we need a swap area, that also doubles the size of the RAM? This has been one if the more frequent questions in the Linux world over the past few years.
The thing is that Linux distributions use a swap area to free RAM in order for your system to work better. But this was more useful when RAM was available on MBs, which is no longer possible. Therefore, dedicating a whole area of 4-8 GB for swapping doesn't make sense nowadays.
Canonical (Ubuntu´s parent company) has taken this into account. Starting on Ubuntu 17.04, the swap areas will be substituted by default swap files. The swap files will not use more of the 5% of the free disk or 2GB (any of those, the lower). The reason behind this is pretty obvious:
Nowadays, recording one area and keeping twice the RAM size to swap does not make sense any more. For a normal machine, most of the time this swap will not be used at all. Or if the mentioned swap room is in use and has an appropriate size, changing its place in retrosprect is painful.
End of the 32-bit-PowerPC support
Maybe you haven´t realized but Ubuntu up to now was using PowerPc arquitecture in order to support the old 32 bits. Since Debian has decided to leave this support, obviously Ubuntu has followed it and has decided to leave the 32-bit PowerPC support.
Linux Kernel 4.10
Ubuntu 17.04 includes Linux kernel 4.10, which is known for stressing out the performance of Intel Kabe Lake and the AMD Ryzen systems.
 More Snaps
Snaps packages of the new Ubuntu distribution will be more abundant, although for now will not replace the apt.
Download or update Ubuntu 17.04
Remember that you can´t update Ubuntu 17.04 from Ubuntu 16.04. You will have to first update to Ubuntu 16.10 and then move on to Ubuntu 17.04. And we don´t recommend this to you. Updating both versions will give you problems, besides the long time you will invest in it.
If you are using Ubuntu 16.10, you will have to update to Ubuntu 17.04 sooner or later. This is because Ubuntu 16.10 will end up in July 2017 and your Ubuntu 16.10 will not have security updates after that date. So if you are using Ubuntu 16.10, start to think about moving on to Ubuntu 17.04.
You have two ways to do it:
Update to 17.04 from Ubuntu 16.10.
Make a clean installation of Ubuntu 17.04 (make sure that you back up your Linux system)
Lastly, we leave you here the releasing notes of the Ubuntu 17.04 version.
This is what you have to do in order to update in a server system:
Install the update-manager-core package if you haven´t installed it yet
Make sure that the line  /etc/update-manager/release-upgrades is on regular setup.
Start the updating tool with the command sudo do-release-upgrade.
Follow the instructions on the screen.